Steroid Bouncer VST / DirectX Plug-in
Processor for dual-mono-stored-as-stereo audio data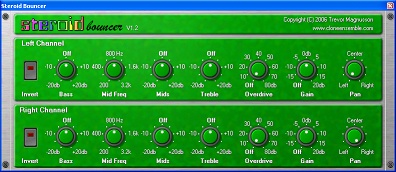 "Stereo" samples not really stereo?

Sick of splitting them into two mono tracks?

Need to tame some radical "extreme panning"?
Have you ever loaded up a sample library and discovered that the "stereo" samples are not really stereo? Classic examples are:
* Upright bass with microphone on the left, piezo pickup on the right
* Bass drum with one microphone panned left, a very different one panned right
You'll know the drill: split the track into two mono tracks, process each one separately.
Have you ever needed to tame a track where the panning was just a bit too radical? The same drill.

These tracks aren't stereo, they're steroid!
And you need a bouncer to knock them into shape.
Steroid Bouncer will save you heaps of effort in most of these situations. It gives you independent mixing, panning, EQ and (delicious) overdrive control over each channel of a "stereo" track.
And best of all, it's totally free. No nags, lo-fi output, timeouts or beeps.

NB: if you've got this far and don't know what I'm on about, Steroid Bouncer probably isn't for you.
Download
Download the DirectX version of Steroid Bouncer now (1001k).
Download the VST (Windows) version of Steroid Bouncer now (701k).
NB: This is a 32-bit plugin. If you are using a 64-bit host app, you will need a bitbridge. I recommand jBridge.

NB: This plugin may not work at sample rates of 192 KHz. I recommend using sample rates of 96 KHz or below.
Learn more
More info: Steroid Bouncer User Notes.
Need help installing? Check out Installation Notes.
Will it run under your audio host? Check out Compatibility Notes.
Screen-reader friendly version for blind users available here.
Some unsolicited user testimonials:
Many thanks for this Very useful plug-in! It's especially useful because Sonar's panning controls (for a stereo track) are actually L/R balance controls - not 'pan' at all...! Can't think why Cakewalk never thought anyone might need to reduce the stereo width of something or lean it to one side or the other while still keeping a stereo image... Nice One! www.magnus-music.com
×