Bass Phaser VST / DirectX Plug-in
Phaser designed especially for bass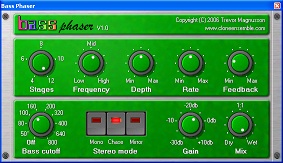 It's just like Bass Chorus, only it's a phaser

It's not just for bass - it's flexible and full-featured

A huge, wide bass sound without sacrificing punch and focus
Have you ever used a phaser on a bass track and ended up with a floppy bottom end wobbling all over the place?
Bass Phaser can avoid that problem by separating the bass and treble frequencies, where you set the cutoff frequency. The effect is only applied to the treble portion, which is then mixed back with the bass for output.
Download
Download the DirectX version of Bass Phaser now (845k).
Download the VST (Windows) version of Bass Phaser now (546).
NB: This is a 32-bit plugin. If you are using a 64-bit host app, you will need a bitbridge. I recommand jBridge.

NB: This plugin may not work at sample rates of 192 KHz. I recommend using sample rates of 96 KHz or below.
(Cubase users: use this Mono->Stereo version if you want it to appear in the send effects list for mono tracks.)
They're completely free.

Learn more
More info: Bass Phaser User Notes.
Need help installing? Check out Installation Notes.
Will it run under your audio host? Check out Compatibility Notes.
Screen-reader friendly version for blind users available here.
×