GigMeister 2000
Solo Performance Workstation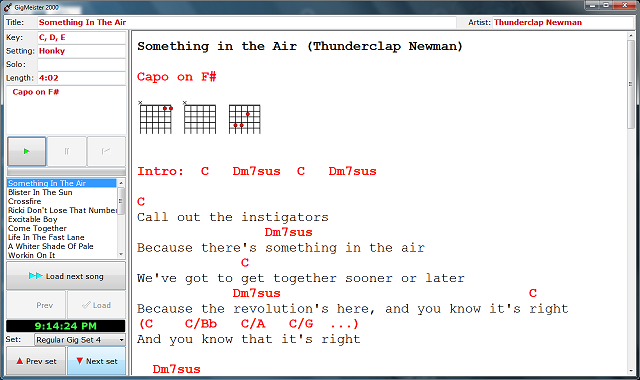 Set list manager, backing track playback

Auto-scrolling lyrics, chords & manuscripts

Optimised for touchscreen / tablet PCs
GigMeister 2000 is aimed at the solo performer who uses backing tracks. To use it you must first to the following things yourself:
You create a series of HTML files containing the lyrics, chords and if required, embedded manuscript images. You can do this with Microsoft Word, or your favourite HTML file authoring tool.

You create/record a corresponding series of the backing tracks using whichever production/sequencing tool you choose.
Once you've done that, you create a configuration file using a text editor (ie Windows Notepad), where you must:
Associate each backing track with its corresponding lyric file,

Add performance notes for each song,

Group these files into set lists.
Now you're done, and you're ready to perform. GigMeister 2000 lets you:
Select a set to play

Step through that set list, performing each each song in turn

As each backing track plays, the lyrics file is displayed, and scrolls automatically (based on timing / position in song)

You get to concentrate on your performance, letting GigMeister 2000 take care of everything else

GigMeister 2000 is designed primarily for a touch-sensitive screen, but you can operate it just as easily with a keyboard and/or mouse.
Download
NB: read this first!
You must be familiar with text file editing (.INI files) and basic configuration management concepts in order to use GigMeister 2000. It is provided free, with a sample configuration file which should be sufficient to get you started.
Download GigMeister 2000 now (521k).
Installation Notes
Copy the application (GigMeister.exe) and the configuration file (GigMeister.ini) to the same folder.

Copy all your backing tracks (.WAV/.MP3/etc) to a single folder (possibly underneath the folder where you have installed the GigMeister files)

Copy all your lyric files (.HTM) tracks to another single folder (or the same one - your choice)

Edit the configuration file (GigMeister.ini), creating your set lists and song items as sections in this .INI file. (In order to use GigMeister 2000, you must be familiar with this type of configuration file).
×